by Sarah Thaler
Hulu LLC
12312 West Olympic Boulevard
Los Angeles, CA 90064
Phone: (310)-571-4700
Fax: (310)-571-4701
www.hulu.com
Company Overview
Both a website and over-the-top subscription service, Hulu provides online video streaming of a wide variety of video that range anywhere from current hit television series, movies, and webisodes to behind the scenes footage and movie trailers from an array of networks. In it's current standing, Hulu is only offered to residents of the United States and Japan; regions outside of these countries are blocked by an IP address location. The Hulu platform allows users to access content through internet-receiving devices such as popular gaming consoles like the "Wii" and "Xbox". Internet-viable televisions, set-top boxes, tablets, and of course, the PC are also used to transmit content instantly. Hulu's display presents content in a flash video format to ensure speedy streaming and high-quality resolution; selected media can be streamed in HD depending on the network providing the syndicated content. Web syndication services are also provided by Hulu to companies like Facebook, AOL and Comcast to keep users within reach of supported affiliates. Hulu was created in 2008 initially by Beth Comstock as a joint venture of NBCUniversal Television Group (Comcast), Fox Broadcasting Company (21st Century Fox) and Disney–ABC Television Group (The Walt Disney Company), and was partially funded by Providence Equity Partners. However, in October of 2012, Providence Equity Partners sold it's ten-percent share of Hulu LLC and is no longer a part of its holdings. [1] [2]
Key Executives: [2]
Mike Hopkins [a]
Chadwick Ho [b]
Elaine Paul [c]
Jean-Paul Colaco [d]
  Financials
Hulu's ad-supported business model is portion of it's revenue along with customer purchases of subscriptions to Hulu plus. Because Hulu is a private holding, quarterly financials are not reported or disclosed to the general public. However, former CEO Jason Kilar revealed the 2012 figures, along with the numbers Hulu has achieved in the past five years in a blog post that wrapped up the fiscal year to perhaps illustrate the stark progression in the company's net value. In 2012, Hulu broke records generating a 65% increase from their 2011 numbers and grossing $695 million in revenue, an all-time high for the company. [3] [4]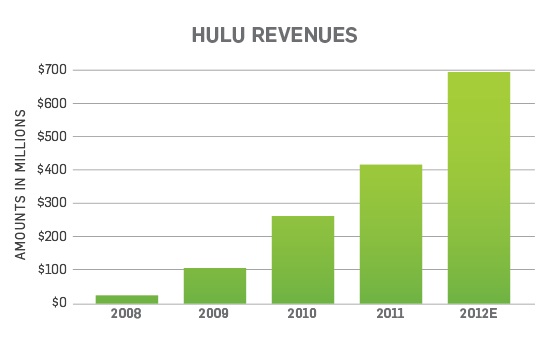 [e]
The Hollywood Insider briefed Hulu's 2012 financials as well and reported that:
"The Hulu Plus subscription product, which launched in November 2010, boasts 3 million paying subscribers today, more than twice what they were at the end of 2011.The service increased title offerings by 40 percent in 2012 to 60,000 TV episodes, 2,300 TV series and 50,000 hours of video on Hulu and Hulu Plus. Kilar also said Hulu spent more than $500 million to acquire content this year."
Viewership and Programming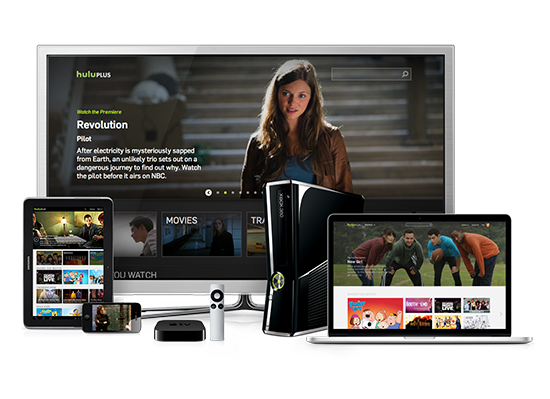 [e]
Viewership numbers of Hulu users are measured through the same rating companies that track other media-viewing platforms such as Neilson, Quantcast, and ComScore. According to their findings, viewership numbers are steadily decreasing despite their impressive revenue for the 2012 fiscal year dropping from 19 million viewers in December 2011 to 12 million in August 2012.
[f]
Hulu's current content partners (NBC, ABC, Fox, Current TV, ION Television, USA Network, Bravo, Fuel TV, FX, NFL Network, Speed, Big Ten Network, Syfy, Sundance, E!, G4, Versus, A&E, Oxygen and online comedy sources such as Onion News Network) allow the company to distribute their content on the Hulu website while Hulu reaps (on average) thirty to fifty percent of the advertising revenue generated by the shows it distributes.
Watch Battlefield trailer here 
Hulu does have a few of their own original content segments that air exclusively on their webisode-style platform. In 2011, the launch of their first series "The Morning After", a satirical, comedic news show, on Hulu plus. This marked a moment in the company's transition from a strictly content-distributing-only business model to one of both content distributing and producing. In January 2012, Hulu announced the release of their first scripted program "Battleground", a political drama series shot in through a documentary style lens to air on the free Hulu platform to appeal to wider audience numbers. Also included in Hulu's repertoire of original content are "The Fashion Fund", a female-audience geared reality series where the winner of the show will receive $300,000 to start their career in the fashion industry, "Up To Speed" a historical travel series, and "A Day In the Life" a documentary series that follows a musician and producer. 

In April of 2012, Hulu added four more shows to their list that they have promised to air in the next few years if funds and viewing numbers permit; We Got Next, The Awesomes, Don't Quit Your Daydream, and Flow. Today, Hulu has joined forces with BBC to create a series that satisfies consumer craving for British humor and comedic thrill; "The Wrong Man" [5] [6]

Watch The Wrong Man trailer here
What's Next? 
[g]
Hulu continues to grapple with possible methods of surpassing it's big-name competitors such as Netflix, Youtube, iTunes, and Amazon. To separate themselves from the rest, Hulu aims to keep their content on the cutting-edge and easily streamable for its users.
pay-TV bundles: The Wall Street Journal on November 12th 2013 posted an article discussing Hulu's interest in offering subscribers pay-TV bundles. Hulu has recognized that binge watching has become a shameless trend in viewership. According to the journal article companies willing to participate and partner with Hulu in the projected route to pay-TV are Comcast Corp., Time Warner Cable Inc., Cox Communications Inc., AT&T Inc.,and Verizon Communications Inc. Hulu has also discussed arrangements with AT&T to bundle its Hulu Plus subscription service with their wireless broadband offerings. [7]
HuluPlus integration with iOs and Chromecast: On October 21st, 2013 Hulu announced on it's official blog that HuluPlus will be adding iOS support for Google's popular Chromecast device, which plugs into any HDTV to let users watch online videos from tablets, smartphones or computers. HuluPlus first came to Chromecast on iPad and Android. The HuluPlus app also allows users to browse content, pause shows and add episodes to a queue, while simultaneously "casting" it to a TV. The Hulu Plus integration with Chromecast will convert the app into a custom remote letting users control video on their Chromecast connected TVs, while allowing them to browse the Hulu Plus app directly from their iPhones as well. [8] [9]

[h]
Sources (written content)
[2] http://www.crunchbase.com/company/hulu
[3] http://www.hollywoodreporter.com/news/hulu-ceo-jason-kilar-exit-408664
[4] http://blog.hulu.com/2013/01/04/some-news-to-share/
[5] http://www.bloomberg.com/news/2013-07-31/hulu-targets-binge-viewers-with-full-release-of-original-series.html
[6] http://www.huffingtonpost.com/2012/05/21/hulu-expands-original-content_n_1532718.html
[7] http://online.wsj.com/news/articles/SB10001424052702304644104579193833342811814
[8] http://blog.hulu.com/2013/10/21/hulu-plus-for-chromecast-live-on-iphone/
[9] gizmodo.com/hulu-is-coming-to-chromecast-987997861 
Image Sourcing 
[a] http://t0.gstatic.com/images?q=tbn:ANd9GcQe3GtayDsc6qVZlMRUZy4cFGzZKOGrU4teP0iXXbmnJp5bvt05YA 
[b] http://www.crunchbase.com/person/chadwick-ho&h=250&w=166&sz=49&tbnid=lxWCbqjcOdKFdM:&tbnh=142&tbnw=94&prev=/search%3Fq%3Dchadwick%2Bho%2Bimage%26tbm%3Disch%26tbo%3Du&zoom=1&q=chadwick+ho+image&usg=__UcaWScc1ANZNgcTUZ8ZL3GOKLNQ=&docid=5D_TNAiT1nLo6M&sa=X&ei=EBWNUo-SH8W14AO31oHQDg&ved=0CC0Q9QEwAA
[c] http://www.thewrap.com/hulu-disney-elaine-paul-cfo
[d] http://adage.com/article/digital/hulu-ad-chief-jp-colaco-latest-depart-video-service/244501/
[e] http://blog.hulu.com/2013/01/04/some-news-to-share/
[f] http://appadvice.com/appnn/2012/05/hulu-rumor-what-is-this-1985
[g] http://www.huluvsnetflix.net/tag/netflix-vs-amazon-vs-hulu-plus/
[h] http://gizmodo.com/hulu-is-coming-to-chromecast-987997861